The sweet flavor
of a tradition
SINCE 1907

The sweetest memories Since 1907.
For more than 110 years, the sorbets, fruit milk shakes known as "champolas" and desserts served in The Colón have sweetened the lives of Yucatecans and tourists from all over the world. The success of these products is largely due to the fact that they continue to be elaborated following the original recipes and using natural ingredients which gives them "a unique flavor of quality".
Over the years, The Colón has become ever more popular and is now a popular stop-off for visitors and a place of reference in Merida.
The fame of Desserts and Sorbets Colón has transcended frontiers; presidents, artists and even royalty have been captivated by the flavors and the quality of these Yucatecan delights.
The idea of opening an ice-cream parlor in the most active social and commercial area of Merida at the beginning of the twentieth century came from Don Vicente Rodríguez y Peláez and Don Felipe Sánchez, his childhood friend.
As part of the history of Yucatan, The Colón transcends as a legacy of memories.
VIEW MORE
Traditional Sorbets The Sweet Flavors of fruit transformed into sorbets and Champolas
The Sweet Flavors of fruit transformed into sorbets and Champolas.

The products of The Colón have maintained their place in the taste of the public for over 110 years. The process of elaboration has remained faithful to the original and although this is now carried out with more modern equipment, the same recipes are conserved.

The origin of the Champola can be found in the Caribbean and consists of the mixture of a soursop sorbet with milk, without blending. Nowadays, it is mixed with sorbets of any flavor.

PRODUCTS SHOPS
Our productsAll our products are handcrafted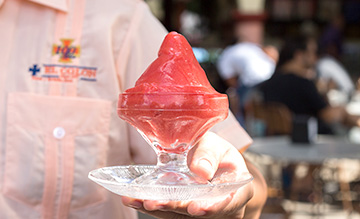 Sorbets
Enjoy and savor the delicious sorbets elaborated with 100% natural fruit.
Ask for the fruit of the season and delight in its flavor.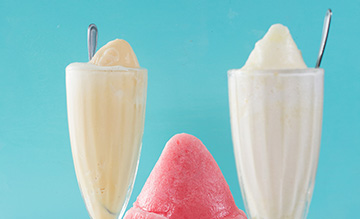 Champolas
Milk and fruit sorbet, the ideal combination for a flavor treat.
Enjoy it accompanied by a delicious dessert.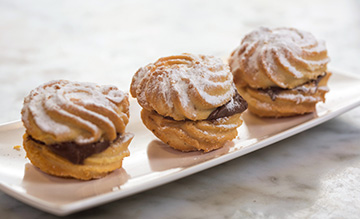 Desserts
An artisanal elaboration is used following the same recipes for over 110 years.
A sweet tradition, which has conquered generations with flavor.